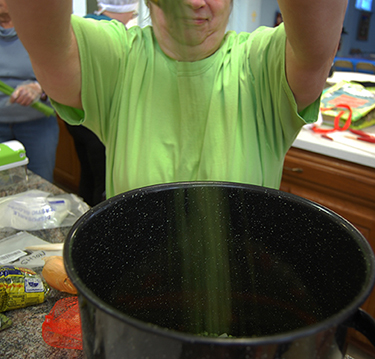 A shower of split peas cascades into a pot at the start of production of the popular split pea and ham soup, which is one of the Holy Trinity soup crew's most sought-after offerings.
The proceeds of the soup sales benefit Holy Trinity's efforts to provide meals to shut-ins.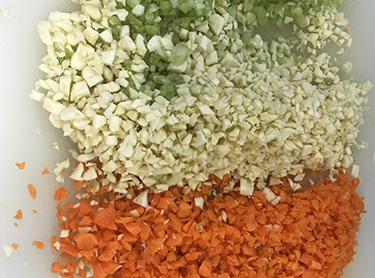 Vegetables that have been finely chopped await their future as soup. Holy Trinity's soup is popular with parishioners and area residents alike. What's your favorite? Vote on the order form on the right of the page.
Is there soup today?
When Father Chattin poses that question at Saturday and Sunday Masses, the response from a few pews down the aisle is a resounding "yes."
There have been as many as six in the crew - five soup makers and a sixth who helps label and pack the orders. Most of the volunteers have been cooking chicken noodle, hamburger barley, split pea and ham, tortellini, chili and others in our kitchen for the last four years.
With the closing of the church building in March 2020 by the bishop as a consequence of the COVID-19 pandemic, soup-making stopped, and the kitchen was closed for several months.
That changed in October 2020 with production of the ever-popular hamburger barley. December featured chicken noodle, and cream of tomato was February 2021's offering.
Prices are $4 a pint and $7 a quart, and April will feature cheese tortellini, which is a vegetarian offering and m-m-m wonderful!
Thank you for your support, and don't forget to get your order to the church office by April 18.
For security purposes, when you click "submit," an email with your order will appear with Holy Trinity's email address in the send field. Just hit send.
Homemade Soup Is Back
Please support our soup ministry now that we are back at the stove. We have been starting slowly, with a new offering every other month, so that we can adhere to state, federal and diocesan safety guidelines.
For April, it is cheese tortellini, available for $4 a pint and $7 a quart. Order by April 18 for pickup from 4 to 5 p.m. April 22 and at coffee hour April 24. You can use this order form.
Please pay by cash, check or Vanco.
Which soup would you like us to offer next: tomato bisque, beef chili, split pea, chicken noodle, or hamburger barley? See the order form to choose.
Soup Order Form
If you prefer to send in or drop off an order form, it is right here for downloading and printing.