Holy Trinity: The Beginnings
By Craig Burgess
The first Holy Trinity Chapel was on Collings Avenue, next to the present firehouse. The cornerstone of the chapel was laid on Dec. 12, 1886. The lot on which the chapel was built was purchased from J. Stokes Collings for $150 ($4,100 in 2020).
The idea for a chapel originated with Walter S. Stoy, a South Jersey pioneer and builder who was one of the founders of Holy Trinity. Stoy lived on Stoy Avenue in Westmont, two blocks from his boyhood home, the 150-acre Stoy Plantation on Crystal Lake.
As a boy, Stoy befriended Walt Whitman, who often boated and wrote poetry on Crystal Lake. Whitman personally assisted in the building effort by giving an evening of "Readings" in Haddonfield as a benefit performance.
Whitman took a dim view of religion as practiced by church members, but had a profound belief in the God of Creation.
His interest in the chapel was such that he not only returned his own fee for the benefit performance, but made occasional donations in later years through Walter Stoy, whom he visited from time to time.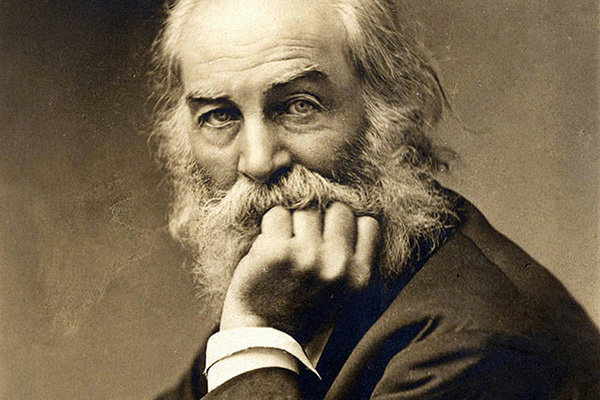 Walt Whitman read his poems to benefit the church.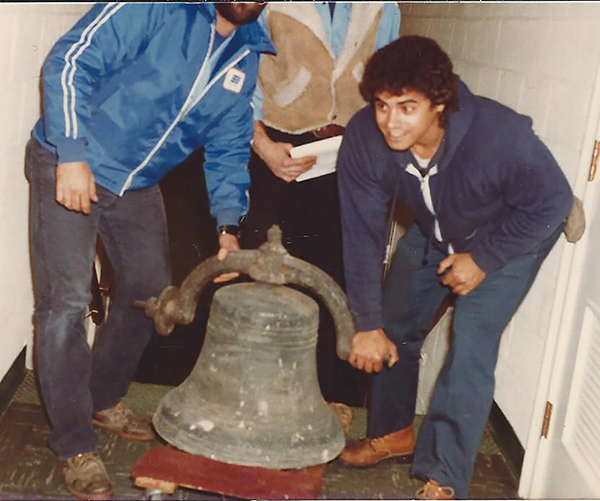 In a December 1983 photo, members of Holy Trinity move the tower bell, donated by the Church of the Holy Trinity, Philadelphia, to the original chapel, for shipment to the Church of the Resurrection in Hiroshima, Japan, which is on the site of the impact of the atomic bomb in 1945.

Holy Trinity, Philadelphia, took an active interest in the Collingswood chapel, donating three stained-glass windows as well as a tower bell. The Collingswood church is named in honor of the Philadelphia church.
A Gift of Three Bibles
Last fall, the Retrospect newspaper in Collingswood published a three-part series on Holy Trinity's history, part of the church's 135th anniversary celebration in December. In response, a former parishioner, Merilee Heffron, who lives in Marysville, Washington, contacted parish historian Craig E. Burgess after reading the series and sent three family Bibles – published in 1826, 1868, and 1881 – to him as a thank-you for the childhood memories of the church resurrected by the articles. The three Bibles soon will be placed in a new display case in the narthex. They are filled with extraordinary illustrations that merit a visit. If you have documents related to the parish and its history, please contact Craig at 856-667-2003, so we might collect enough to display them on a rotating basis in the Great Hall.