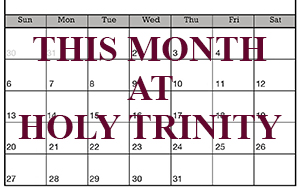 All Masses are live-streamed unless otherwise noted.
Saturday, Dec. 9: 11 a.m. to 8 p.m., Manger Mania & Christmas Mart; tree-lighting at 7 p.m.

Sunday, Dec. 10: 9 a.m., Mass for the Second Sunday in Advent; coffee hour follows; 6 p.m. Manger Mania Candlelight Dinner.

Sunday, Dec. 17: 9 a.m., Mass for the Third Sunday in Advent; coffee hour to follow; 1 p.m., indoor Christmas decorating.

Friday, Dec. 22: (time to be announced): Poinsettias and final touches.

Sunday, Dec. 24: Mass for the Last Sunday in Advent; coffee hour follows. (See above for Christmas Mass information).
_________________________
Altar Flowers
There are many Sundays available for you to remember your loved ones with flowers.
Contact Charlotte Sink at the church office. The cost is $45.
_________________________
Boscov's Helping Friends
Our annual Boscov's event Oct. 18 raised $220.

A $5 shopping pass from the department-store chain entitled shoppers to a 25 pct. discount that benefited area nonprofits including Holy Trinity,

Thanks to Charlotte Sink and Karen Sobota.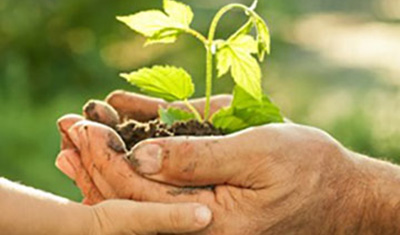 Your gifts help Holy Trinity grow!
If you are interested in finding out more about The Labyrinth at Trinity Plaza, please click here for a downloadable brochure.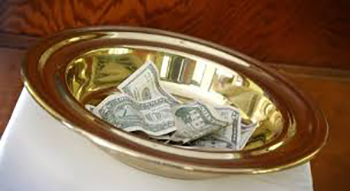 Online Giving
Please don't forget to keep up with your pledge. Bills still need to be paid. You can give electronically. Use the holiday season to help us meet our financial obligations and help us grow.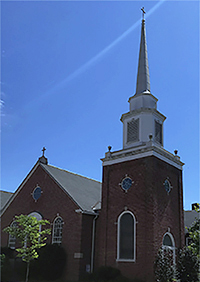 Holy Trinity Church
___________
Candlelight Dinner
Help us close out our Manger Mania Weekend with a very special Christmas candlelight dinner Dec. 10 at 6 p.m.
We'll celebrate the season amid the lights and decorations of our beautiful Manger Mania display.
Reservations are requested. We're asking a $10 per person donation to cover the cost of the glazed ham dinner.
Please call or email the church (856-858-0491 or holytrinity1@verizon.net) by Dec. 6.
Feeding First Responders
We continue to bring lunch frequently to the police and fire personnel in Collingswood in partnership with the Rotary Club as we have done since the pandemic began in 2020.

Financial donations to offset the costs of this effort are always welcome, whether by mail, in the plate, or through Vanco.
Our Mission
Holy Trinity's mission is to be a welcoming faith community that celebrates God's presence and activity through worship, education, and fellowship, and by seeking and serving Christ in all persons.
Our worship at Holy Trinity centers on weekly celebrations of the presence of Christ in the Holy Eucharist.
These are the central component of our lives in faith.
___________
Church Chat
The Saturday folks (parishioners who normally attend 5:30 Mass) continue to meet at 5:30 p.m. Saturdays on the conference call line for conversation and Evening Prayer.

The number 856-861-3864 – PIN 924 821.
Please join us.
Food Pantry Changes Due
We accept donations for the Collingswood Food Pantry, which is moving to the First United Methodist Church on Dayton Avenue at the first of the year.

We also will be working with the Oaklyn Community Pantry, which operates from the Oaklyn Baptist Church on on East Bettlewood Avenue.

Check the Oaklyn website for information. More information soon for the First United Methodist site.

_________________________
Christmas Mart Donations
We've still got a little time to accept donations for the Christmas Mart that will be part of our Manger Mania Weekend.
If you have gently used jewelry, Christmas decorations, winter décor, or other pretty items that would make nice Christmas gifts, please be sure to get them to the church as soon as possible.
Call Charlotte in the office if you need to arrange a time for drop-off.
And don't forget, we are always collecting items for our yard sales during the year, so if you miss the Christmas Mart, don't despair.