Welcome to the Mass for the Ninth Sunday after Pentecost. Past Masses live-streamed since the start of the pandemic on March 15, 2020, remain available. Follow along today's Mass by clicking the service leaflet link at the right, or you can use your own prayer book and hymnal if you prefer to do so.
Permission to stream the music in this service has been obtained by Holy Trinity Church from One License, License #732497-A.

Copyright Information for Service Music:

S120 Text: © The Church Pension Fund S130 Adaption: © G.I.A. Publications Setting from Deutsche Messe, Franz Peter Schubert, arr. Richard Proulx S164 Adaption: © G.I.A. Publications Setting from Deutsche Messe, Franz Peter Schubert, arr. Richard Proulx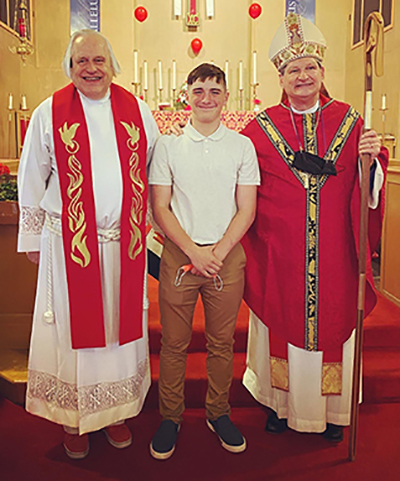 Andrew Woolford, who was confirmed on Pentecost Sunday, with Bishop Stokes and Father Chattin
____________
A New Day at Holy Trinity

Dear Friends,
It's a new day at Holy Trinity Church. Our affiliation with St. Bartholomew's Church in Cherry Hill began July 1. Over the coming months, we will begin to live into this new relationship as we discern how God is leading our congregations.
The biggest immediate change is on July 3, the time of our weekly Sunday Eucharist at Holy Trinity moved to 9 a.m. (St. Bart's service time is now 10:30 a.m.). What isn't changing is that I will remain rector of Holy Trinity, although with a reduced presence. Clergy costs will be divided between the two churches. Over time, we will develop a clergy team for the affiliation. Do know that this is in no way a merger as each of the churches will remain independent.
This affiliation is an experiment as we respond to societal change and post-COVID pandemic conditions. Much is yet to be developed, but this new arrangement offers us the opportunity for expanded ministry, education, and fellowship as both congregations work together.
Also, we can consider the affiliation as one church with two worship sites. If for some reason you are unable to attend a service at one church, you would have the option of attending the other at an alternate time.
As we live into this new way of being the Church, may we be generous in spirit and good humor. As with any experiment, there will be mistakes and failures along the way. But there will also be tremendous opportunity for activities, deepening faith, and a closer walk with Christ.
I ask your prayers for our congregations and for me. Please don't hesitate to contact me if you have any questions or needs (609) 941-5152.
With Faith, Hope, and Joy,

The Rev. Mark H. Chattin
Rector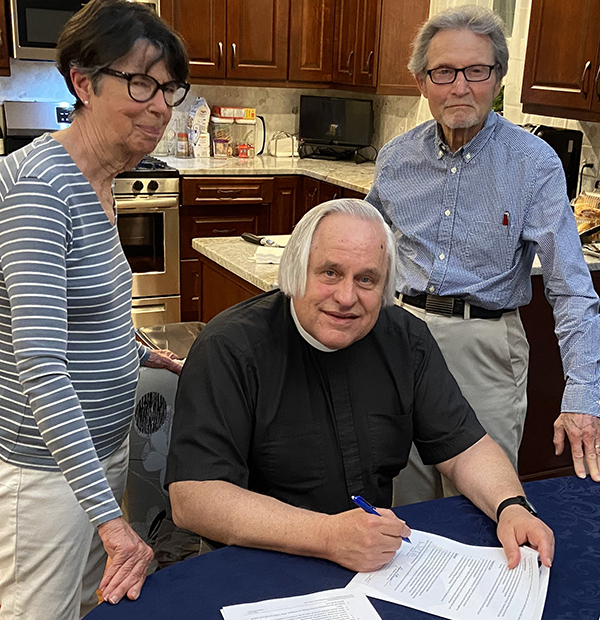 Father Chattin is flanked by Yvonne Bones and David Spaeth at the signing of the memorandum of understanding, which established affiliation, on May 31 at the rectory.
__________________________
To provide humanitarian aid to those fleeing the violence in Ukraine, Episcopal Relief & Development will provide cash, blankets, hygiene supplies and other needed assistance during and after the crisis. Click on the blue-tinted link to donate in a secure manner.
____________
Choir Appreciation Sunday was June 26. We thank Diane Rugala, Lillian Ward, Paul and Sharon Wolfgang and Deb Cruz, and organist/choir director Cindy Chattin, for their fine work during the year. They return Sept. 18.
Food Pantry Donations
Pasta and sauce are on the Food Pantry's donation menu for July and August. Please leave them in the tower.
If you are interested in finding out more about The Labyrinth at Trinity Plaza, please click here for a downloadable brochure.
____________
Welcome to Virtual Mass
Here is the link for the leaflet for the Ninth Sunday after Pentecost. Click the "plus" sign to the right of the "Holy Trinity" tab at the top of the page to create a new tab so that you can toggle easily back and forth between the livestream and the leaflet.
Sermon for the Ninth Sunday after Pentecost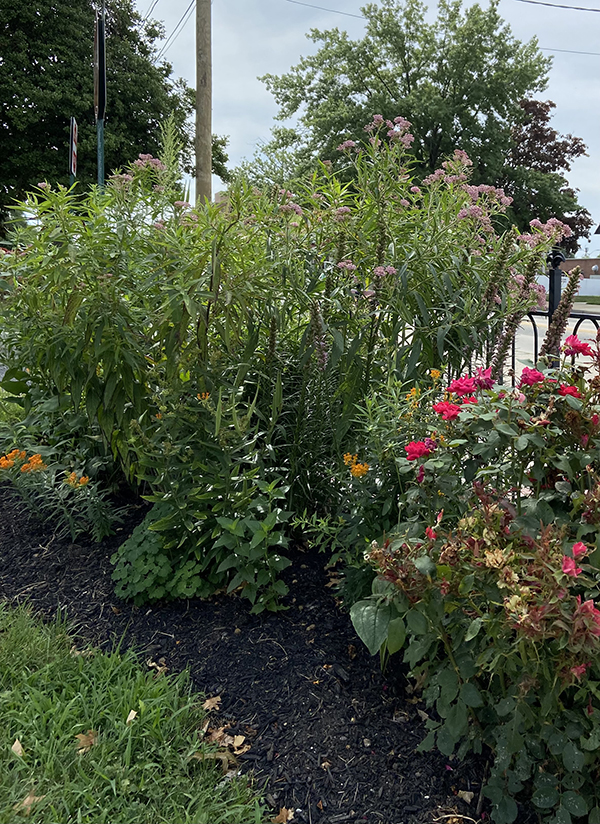 Despite the unrelenting heat, the butterfly garden, planted a year ago by a member of Liberti Church, is thriving and attracting.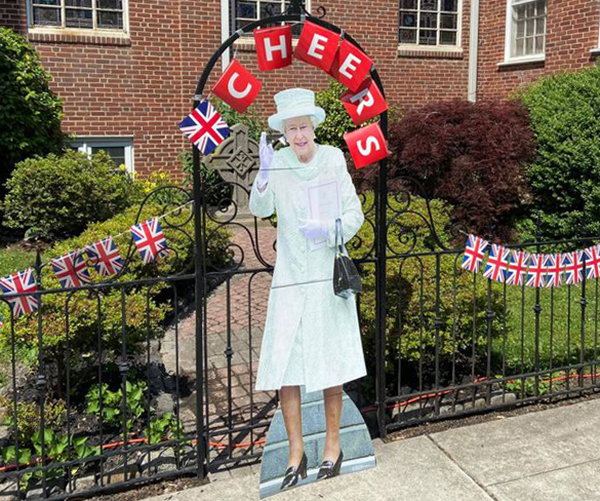 Queen Elizabeth II visited Holy Trinity for a garden party marking her 96th birthday and 70th year on the throne. About 40 people, some wearing hats often seen adorning royal family members, attended the June 4 afternoon event.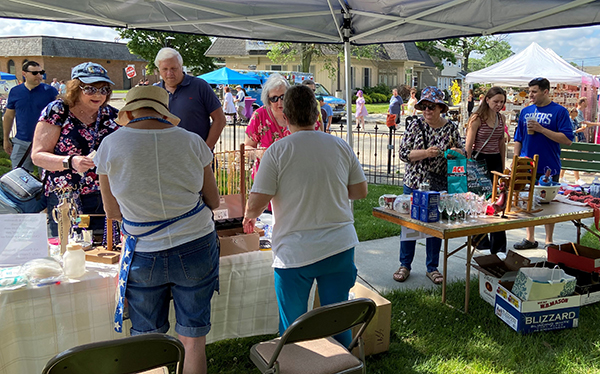 A May Fair To Remember
It was the first Collingswood May Fair since 2019, and the streets surrounding Holy Trinity Church were filled with happy and hungry people. Our yard sale, piloted by Carol Staszewski, was packed from the 9 a.m. start with bargains galore. Our traditional strawberries and ice cream and much-appreciated ice cold water were huge attractions. Remember, on Aug. 20, we will have another yard sale during the Crafts and Fine Arts Festival. We are seeking your donations of gently used household items, jewelry, handbags, knitted/crocheted creations, seasonal decorations, books, puzzles, and games. (Used clothing and shoes will not be sold.) Please label your donations "Yard Sale" and bring them to the church by Aug 12. Questions? Carol at 856-858-5909.
____________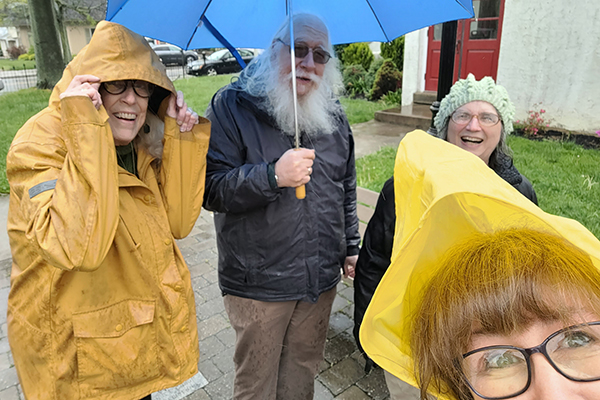 Rain and wind didn't deter these hardy souls from the May 7 Labyrinth Walk. Holy Trinity's event was observed throughout the world that day.
__________________________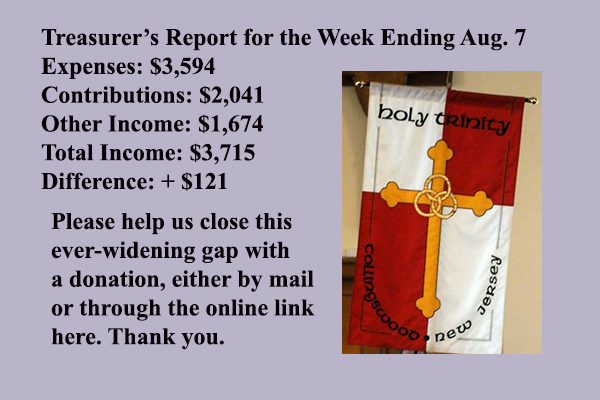 If you wish to find out more about church expenses and operations, please visit our Financials page. Click on the above photo to donate online.
__________________________