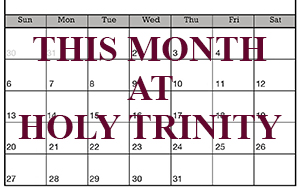 All Masses are live-streamed unless otherwise noted.
Saturday, 5:30 p.m., Evening Prayer and Conversation on the Conference Line.

Sunday, June 4, 9 a.m., Trinity Sunday, with the Rev. Dr. Jeffrey Kirk; coffee hour to follow: 4 p.m., Sunday School and Youth Fellowship, St. Michael's Chapel.
_________________________
The Online Auction
Many thanks to everyone who participated in our MaxSold auction. The auction concluded March 22 after a flurry of very exciting last-minute bidding. We are thrilled to report that the final net proceeds will be $3,095.67.

There will be more sales of used items this year. Donations are welcome.
_________________________
Our Supply Priests
We wish to thank the Rev. Canon Martin Gutwein, the Rev. Dr. Jeffrey Kirk and the Rev. Dr. Patrick Close for filling in at Sunday Masses and special services.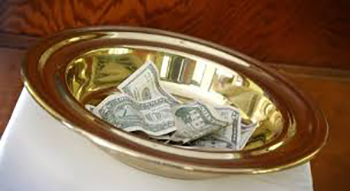 Online Giving
Please don't forget to keep up with your pledge. Bills still need to be paid. You can give electronically. Use the holiday season to help us meet our financial obligations and help us grow. Click here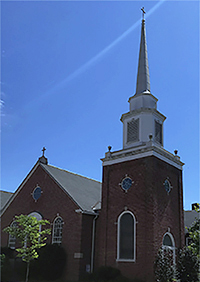 Holy Trinity Church
___________
Feeding First Responders
We continue to bring lunch frequently to the police and fire personnel in Collingswood in partnership with the Rotary Club as we have done since the pandemic began in 2020.

Financial donations to offset the costs of this effort are always welcome, whether by mail, in the plate, or through Vanco.
Our Mission
Holy Trinity's mission is to be a welcoming faith community that celebrates God's presence and activity through worship, education, and fellowship, and by seeking and serving Christ in all persons.
Our worship at Holy Trinity centers on weekly celebrations of the presence of Christ in the Holy Eucharist.
These are the central component of our lives in faith.
___________
Church Chat
The Saturday folks (parishioners who normally attend 5:30 Mass) continue to meet at 5:30 p.m. Saturdays on the conference call line for conversation and Evening Prayer.

The number 856-861-3864 – PIN 924 821.
Please join us.
Altar Flowers
There are many Sundays available for you to remember your loved ones with flowers.
Contact Charlotte Sink at the church office. The cost is $45.
Food Pantry for May
We accept donations for the Collingswood Food Pantry, which is run by and housed at St. Paul's Evangelical Lutheran Church and serves Collingswood and Haddon Township residents.

For May, we are accepting cleaning products.

Please leave the donations in the proper bin in the tower.